Berry Events Center
The Berry Events Center, which opened its doors in October 1999, is home to the NMU men's and women's basketball teams, hockey team and the USOEC short track speedskating squad. The facility is named in honor of the John Berry family, who made a gift of $2 million to Northern Michigan University to help build the facility. John Berry is a 1971 NMU alumnus.
The facility provides individual seating for approximately 3,800 fans, in addition to seats in 16 luxury boxes. Along the perimeter of the arena are four large concession areas, as well as standing room for approximately 400 fans.
When used for hockey, the Berry Events Center has an Olympic-sized ice sheet measuring 200 feet by 100 feet. When rigged for basketball, the court sits on protective flooring which is placed over the ice, providing additional courtside seating for 500 fans. Conversion from hockey to basketball is completed in approximately five hours.
The Berry Events Center features locker rooms for each of its home teams, as well as four general-use locker rooms. In addition, skate rental and changing areas are located on the lower level of the facility. A weight room, athletic training room and meeting rooms are located in the hockey area.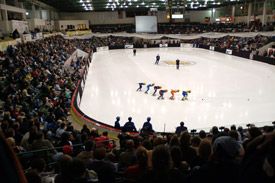 The Berry was the site of a 2003 ISU World Cup Short Track Speedskating events where two world records were set. It also held the 2006 U.S. Short Track Speedskating Championships, which served as the Olympic Trials for the U.S. Team that competed at the Torino Winter Games.
Also designed to host concerts and community events, the Berry Events Center is equipped with moveable theatrical rigging and lighting. Some of the entertainers to recently perform at the Berry have been Maya Angelou, Dierks Bentley, Bill Cosby, Earvin "Magic" Johnson, and Jason Mraz.
For information on renting the Berry Events Center, call 906-227-2850.
For information about the Berry Events Center building hours, go to
Facility Schedules
. Events taking place at the Berry Events Center can found on the
Recreation & Sports Complex calendar
.