Marquette, Michigan
Home to 20,000 lucky residents, Marquette Michigan is 450 miles from the state's largest and best-known city, Detroit, and it's truly worlds away.

This vibrant but easy-going community, which grows to nearly 30,000 with the return of Northern Michigan University students each fall, is located on the shore of Lake Superior, surrounded by miles of recreational forestland in Michigan's Upper Peninsula.
A winter paradise for skiers, snowmobilers and ice-fishers, the region receives an average of 170 inches of snow each year, with a record of 319 inches. In the warmer months, residents enjoy pristine Lake Superior beaches, hundreds of miles of hiking and mountain biking trails, sailing, kayaking, scuba diving and fishing on the big lake or on numerous rivers and inland lakes.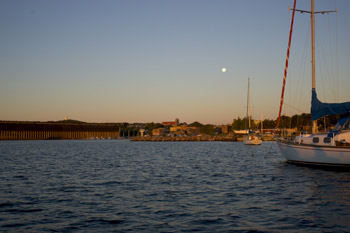 Marquette is a Mecca for athletic events. The city and surrounding communities host the annual UP 200 dogsled race, a qualifier for the Alaska Iditarod, and the Noquemanon Cross-Country Ski Marathon. Both events attract top-notch competitors from around the world. The Superior Bike Fest, Ore-to-Shore Mountain Bike Epic race, the Superior Shore Run, Continental Cup Ski Jumping Tournament, occasional Olympic-qualifying competitions and weekly NMU Wildcat games also keep the local lifestyle active and involved.
Cultural, art, music and food festivals as well as numerous trade shows provide even more fun throughout the year. Among the many accolades Marquette has received include:
All-America County
Most Livable City
100 Best Communities for Young People
Michigan Cool City
5 Best Places to Live and Ride (Bike Magazine)
Top 10 Winter Vacation Destinations (The Weather Channel)
Top 10 Global Summer Vacation Destinations (Sherman's Travel)
100 Best Art Towns Top 7 Places to Build a Vacation Home (Men's Journal)
Top 10 New Courses: Greywalls (Golf Digest)
Top 10 Towns for Outdoorsmen (Outdoor Life)
Beyond Marquette, the Upper Peninsula has much to offer, too. Nestled between three Great Lakes (Superior, Michigan and Huron) the 384-mile long, 233 mile-wide U.P. has no shortage of splendor: from wildlife to waterfalls and lighthouses to lingering sunsets.
Its rich history of mining and forestry is still a visible and current economic force. Tourism, education and health-care are other major players in the region's employment.
At the Community Expo (noon-7 p.m., Thursday, Sept. 10) at the Westwood Mall, you'll have an opportunity to meet a variety of Marquette businesses and non-profit organizations. More info.
To learn more about what there is to see and do in Marquette, go to Marquette Country.