Marquette, Michigan Quick Facts
Latitude/longitude:
Coordinate
Decimal

N46 deg. 33.40266


W087 deg23.7921
46.556711


-87.396535
Location: Upper Peninsula of Michigan in the northern Midwest of the United States. Found along the southern shore of Lake Superior, the largest freshwater lake in the world.
County: Marquette, spans 1,872 square miles. Has 64,874 residents (2000 census)
Temperature: Mean temperature in January is 11.9 degrees; mean temperature in July is 65.1 degrees.
Rain/Snow: Marquette receives approximately 35 inches of rain per year and 172 inches of snow.
Around the County: 22 motion picture screens, four 18-hole golf courses, two alpine ski areas, 155 kilometers of cross country ski trails, more than 500 miles of groomed snowmobile trails, museums, bowling lanes, baseball fields, tennis courts, basketball and volleyball courts, ice arenas and much more.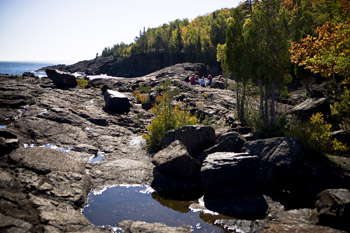 Natural Beauty: The region offers 11 hiking trails, 96 miles of cross country ski trails, 500 miles of snowmobile trails, 11 accessible waterfalls and about 10 miles of city bike paths.
Olympic Training Center: Marquette is home to the only Olympic Education Center in the United States, which is one of four U.S. Olympic training centers in the nation. The United States Olympic Education Center is located on the campus of Northern Michigan University, the only Olympic training center located on a university campus.
Superior Dome: Marquette is also home to the Superior Dome, the largest wooden dome stadium in the world. It is a part of Northern Michigan University's Sports Complex.